R'Ply is the new range of plywood combines certified veneers and an innovative glue to replace a significant amount of the formaldehyde used in traditional glue.
This progress is the result of a partnership that began in 2018 between Allin and ResiCare, a subsidiary of the Michelin group. It tooks 3 years to integrate the new glue in the manufacture of plywood.
Unique technology
ResiCare's technology is unique and is based on an adhesive composed of a 100% bio-sourced and non-toxic* reagent that significantly reduces the use of formaldehyde. This innovative glue reduces greenhouse gas emissions, by up to 28 kg of CO2 equivalent/m3 of plywood produced** ( Results based on a process of eco-design through an environmental impact assessment supported by the Gingko 21 consulting firm. ***source : EPF March 2020)
non-toxic: without chemical presenting SVHC (Substance of Very High Concern) characteristics as defined by ECHA. **
Thanks to this technology, compared to standard plywood on the market Allin removes 60% of the amount of formaldehyde in the products of its new R'PLY range. Allin's goal is to produce 100% formaldehyde free plywood and is already working with ResiCare to completely remove formaldehyde from the glues used in its factory.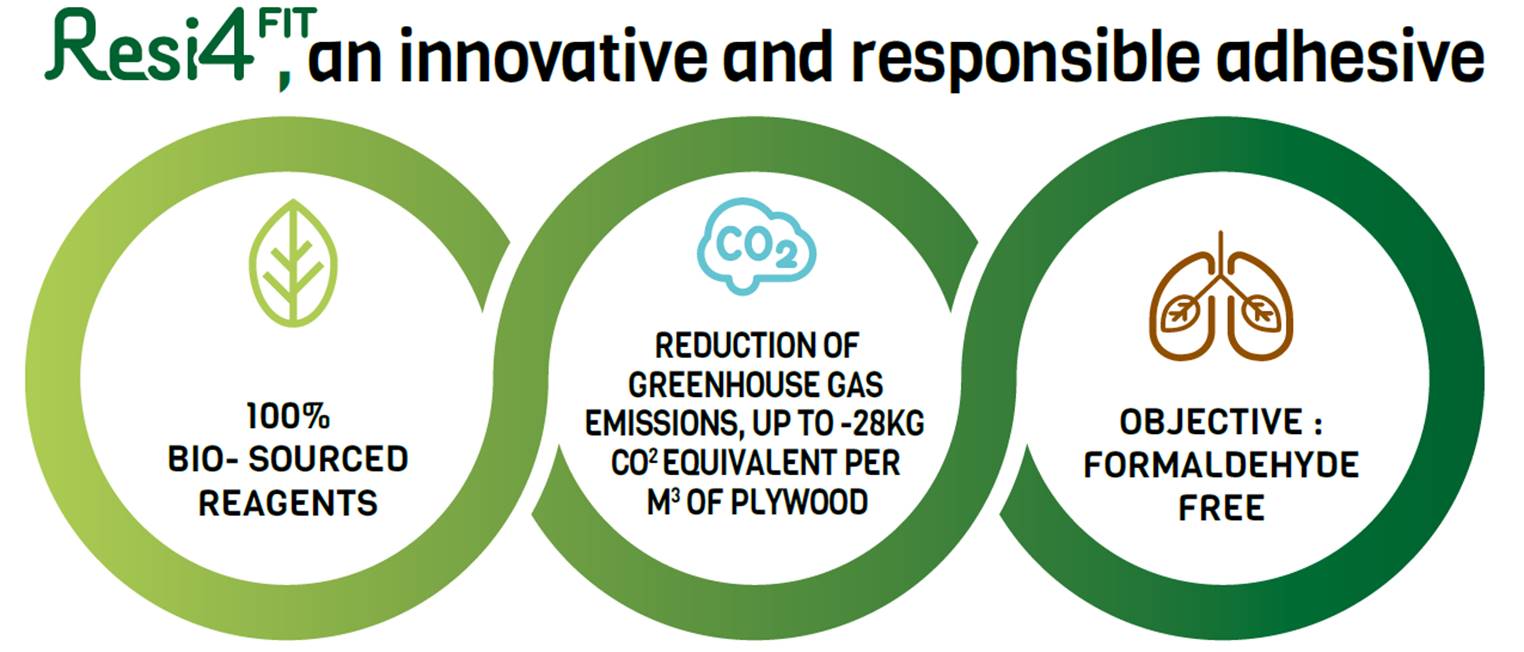 R'PLY, responsible plywood with strong health, environmental and technical performance.
Indeed, in addition to the use of Resi4FIT technology from ResiCare, the R'PLY range is composed of 100% eco-certified wood veneers from sustainable forest management. The okoume (FSC®-labeled) and poplar (PEFCTM-labeled) veneers used guarantees compliance with strict guidelines at all levels, from the forest to the finished product.
R'PLY retains the technical characteristics of Allin panels, which performance in terms of mechanical resistance and resistance to humidity is faithful to the know-how and quality requirements of the company. In addition to being able to be installed in buildings that must meet high health standards, this responsible plywood has the main advantage of releasing fewer substances toxic for humans, from its manufacture to its use.